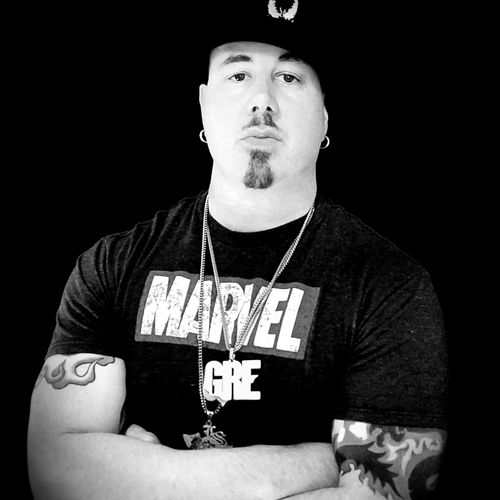 JP THA HUSTLER
Owner | Artist | Producer
JP Tha Hustler is an American Hip-Hop artist and producer from Los Angeles, California, who serves as owner and lead producer for music label Grim Reality Entertainment.
He began his professional music career in 2001, producing for various westcoast rap acts, as well as producing for Billboard charting southern rap artist Po' White Trash (PWT) aka Roy Dee. He got his first major experience producing, recording and mixing at West Larrabee Sound Studio and WolfPac Records Studio, for PWT's debut album "Po' Like Dis" which charted Billboard in September of 2001. Later that same year, he became involved in the Insane Poetry / Coolio collaboration song "Life's A Gamble" while recording and mixing at Studio D in Glendale, CA.
Since 2001, he has released 19 studio and remix albums (both solo and group projects), several remix albums, and countless digital singles. Affiliated groups include Team Guillotine with Insane Poetry and Beastmode Warriors with Slyzwicked. He also produces for and frequently collaborates with the entire Grim Reality Entertainment roster.
Notable collaborations include Boondox, Brotha Lynch Hung, Bukshot, Coolio, Cryptic Wisdom, K-Rino, Kung Fu Vampire, Lex the Hexmaster, Liquid Assassin, Percee P, Phil The Agony, 1 Ton of Potluck, San Quinn, Sly Boogy, Spice 1, Whitney Peyton, X-Raided and Young Wicked.
He has charted on iTunes in several countries, including Italy, Poland, Mexico, Mongolia and United Arab Emirates:
Powerlifting (Hardcore Workout Mix) added to iTunes Italy Hip-Hop/Rap Chart, ranking at #184 on March 10, 2019.
Dirty Sanchez (Single) added to iTunes Mexico Hip-Hop/Rap Chart, ranking at #71 on March 6, 2020.
Here We Go - Got That Fire Remix added to iTunes United Arab Emirates Hip-Hop/Rap Chart, ranking at #7 on August 8, 2020.
The Real (Originator Remix) added to iTunes Mongolia Hip-Hop/Rap Chart, ranking at #3 on April 27, 2021.
Issues (Remix) added to iTunes Poland Hip-Hop/Rap Chart, ranking at #4, December 12, 2022.
He has also featured on and produced several songs that have amassed millions of views and plays on Instagram, Facebook and Tik Tok, including the single "Beastmode (Hardcore Workout Mix)" with over 10 million plays on social media platforms.
Additionally, he tours the U.S. several times a year.